Maritime Electric President & CEO John Gaudet to Retire and is Succeeded by Vice President, CFO Jason Roberts
The Maritime Electric Board of Directors today announced that President and CEO John Gaudet will be retiring from the Company and will be succeeded by Jason Roberts as President and CEO, effective August 1, 2020.
"We are pleased to announce Jason as the new  President and CEO of Maritime Electric," said Jackie McIntyre, Chair of the Maritime Electric Board of Directors. "He brings over 20 years' experience at Maritime Electric and has held progressively senior roles which positions him well to lead the Company. Jason brings a wealth of experience and knowledge that will lead the Company in these ever changing times."
"I am excited about my new role and working with our team of dedicated employees to serve our customers across the Island," said Jason Roberts, incoming President and CEO.
Jason has been the Vice President, Finance and Chief Financial Officer and Corporate Secretary since 2017 and has been trusted in senior leadership roles in the Company in Regulatory Affairs, Finance and Human Resources. He holds a Bachelor of Commerce degree and is a Chartered Professional Accountant. He is a dedicated community supporter and volunteer.
"On behalf of the Fortis team, I want to congratulate Jason on his appointment as President and CEO of Maritime Electric," said Barry Perry, President and CEO, Fortis Inc. "Jason's financial and regulatory experience, combined with his understanding of the important role which Maritime Electric plays in Prince Edward Island, makes him well suited to lead the utility as we work toward a cleaner energy future for Islanders and all those we serve throughout North America. I also want to pay tribute to John Gaudet who has given nearly four decades to the utility sector. His commendable dedication to operational excellence, safety and people leadership places Maritime Electric among one of the most respected energy companies in the country. Best wishes in your retirement, John."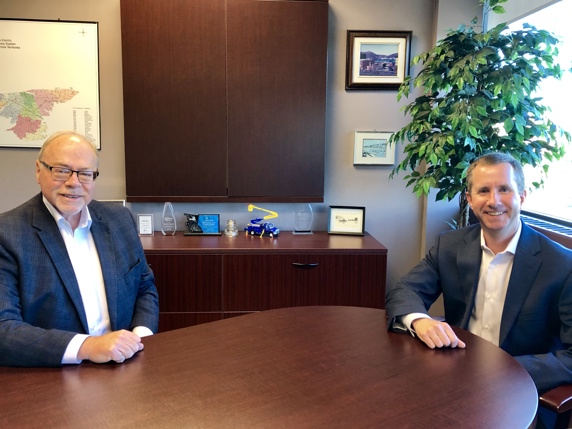 John Gaudet, retiring President and Chief Executive Officer (left) with incoming President and Chief Executive Officer Jason Roberts (right)
About Jason Roberts
Jason Roberts is the Vice President, Finance and Chief Financial Officer of Maritime Electric Company, Limited employing 185 people and serving approximately 83,000 customers throughout Prince Edward Island. He also serves as the Corporate Secretary to the Maritime Electric Board of Directors.
Jason holds a Bachelor of Commerce Honours (Co-Operative) from Memorial University of Newfoundland and in 1997 successfully attained his Chartered Accountant (CPA) designation.
In 2000, Jason joined Maritime Electric as the Supervisor, Treasury and was promoted to Director, Regulatory and Financial Planning in 2006 until his appointment as Vice President, Finance Chief Financial Officer in 2017. Over the past 20 years at Maritime Electric, Jason has worked in the areas of utility regulation, tax, finance and human resources.
Jason is currently a member of the Junior Achievement Business Hall of Fame Board of Governors. He previously served on the Board of Big Brothers – Big Sister of Carleton-York (NB) and the United Way of PEI, acting primarily in the capacity of treasurer or finance committee member. Jason was also involved with the Heart and Stroke Foundation as Board member and Chair of the PEI Foundation as well as a member of the National Volunteer Engagement Strategy Committee.
Jason and his wife Angela have two sons, Matthew and Jack, and reside in Suffolk.