2019 General Rate Application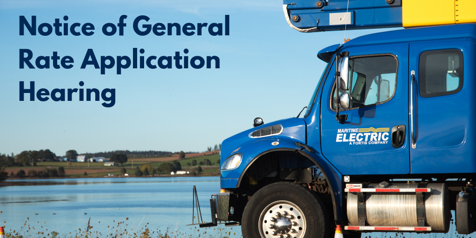 IRAC is holding a public hearing to review Maritime Electric's General Rate Application. The hearing begins Tuesday, August 6 until Friday, August 9, with an evening session for members of the public at 6:30 pm on Thursday, August 8. An audio broadcast of the hearing will be available at www.irac.pe.ca.


---

Maritime Electric has filed an Application with the Island Regulatory and Appeals Commission (IRAC) to set customer electricity rates for the three year period from March 1, 2019 to February 28, 2022. The Company is proposing a general rate increase of 1.1% on March 1 in each of the next three years, commencing March 1, 2019 for a typical urban Residential customer consuming 650 kWh per month.

Other proposals in the Application include:
Reducing the rural Service charge on March 1, 2019 to $24.57 to match the urban Service charge and the elimination of the Rural/Urban classification;


Increasing the Residential second block to 5,000 kWh on March 1, 2021;


Adoption of an Earnings Sharing Mechanism for earnings above or below the allowed Return on Average Common Equity;


A plan to decommission the Charlottetown Thermal Generating Station in 2022-2023;


Approval of recommendations from the recent Depreciation Study; and


The addition of a new per kWh rate rider (as a line item on customer bills) for the Province's Energy Efficiency and Conservation Plan.
To view the full General Rate Application, visit IRAC's website at www.irac.pe.ca.


For more information please contact us at 1-800-670-1012 or customerservice@maritimeelectric.com.