STEAM Programs
STEAM Programs
Maritime Electric is committed to fostering engineering talent on Prince Edward Island by supporting engineering education and inclusive workforce programs that facilitate ingenuity and creativity towards sustainable solutions to global energy problems.
STEAM PEI
STEAM PEI is a non-profit organization whose mission is to inspire young Islanders to pursue careers in science, technology, engineering, art and math fields through engaging experiential learning opportunities. STEAM PEI strives to reach all PEI students with a focus on girls, indigenous students and students from low socio-economic backgrounds, who are traditionally underrepresented in STEM fields. We are proud to sponsor STEAM PEI's Grade 9 Engineering Workshops. These workshops provide a hands-on, in-depth instruction on topics including geometry, engineering, forces and motion, simple machines and architecture. Learn more about STEAM PEI.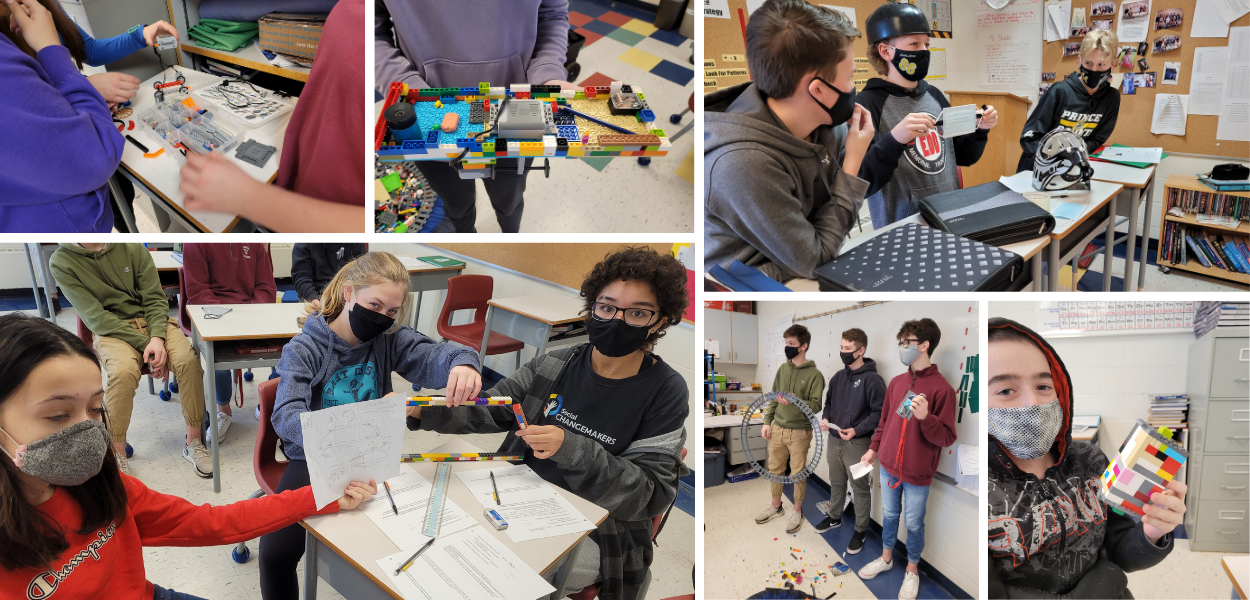 Students share their prototypes and designs, including a smart key ring, a food delivery robot and a mask that clips into a hockey helmet.


"Thanks to support from Maritime Electric, STEAM PEI's Professional Engineers have been able to facilitate engineering design experiences for 37 Grade 9 classes from 2019 to 2020. Without funding from Maritime Electric, we would not be able to share our excitment for engineering with almost 1000 students and teachers across PEI." – Amber Jadis (Manager, STEAM PEI)

ProGRES Program
The ProGRES Program focuses on recruiting the next generation of female engineers. Through the program, female high school students have the opportunity to be part of cutting-edge research projects with world-class researchers in state-of-the-art facilities. Each student has their own independent research project to complete, as well as opportunities to meet other women engineers and engineering students through field trips, seminars and other events.


"Maritime Electric has been instrumental in supporting the recruitment of young women to Engineering through the ProGRES project (Promoting Girls in Research in Engineering and Sustainability). Your support enabled this grant to bring young women in Grades 11 and 12 to the Faculty of Sustainable Design Engineering at UPEI to work on research projects with women engineering faculty and/or women engineering students and for them to engage with the community of women professional engineers on Prince Edward Island. I am so grateful for the leadership and insight at Maritime Electric to see that the underrepresentation of women in Engineering fields should be a "thing of the past" and the future of Engineering embraces diversity and equity. Thank you for this amazing support through the years." – Dr. Amy Hsiao (Professor and Founder of ProGRES at UPEI FSDE)

Pictured: Dr. Amy Hsiao and ProGRES' 2018 student cohort. Please note that photos were taken prior to the introduction of COVID-19 public health protocols. 
FIRES Initiative
In 2020, Maritime Electric supported Dr. Amy Hsiao and the UPEI Faculty of Sustainable Design Engineering's FIRES initiative. FIRES focuses on the recruitment of indigenous students on PEI to the engineering program.
Maritime Electric Engineering Scholarship
Maritime Electric is in the second year of a three-year Engineering Scholarship at the University of Prince Edward Island. The scholarship is valued at $750 CAD and is presented to a student entering their third year of study in the Faculty of Sustainable Design Engineering. The scholarship is presented to a student in good academic standing who is interested in pursuing a career on Prince Edward Island. Where applicable, preference will be given to a student in financial need. Learn more about UPEI's Faculty of Sustainable Design Engineering.




Pictured: Rachel Dunn and Jessica MacDonald, Maritime Electric Engineering Scholarship recipients.